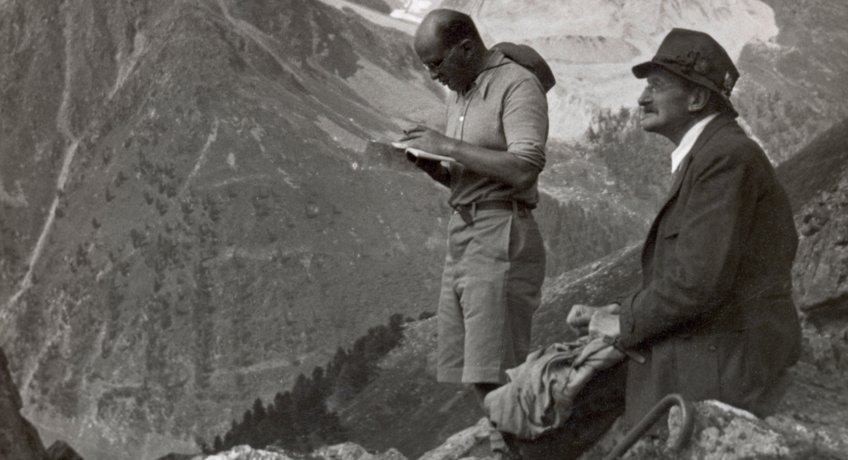 In Max Planck's footsteps at Lake Tegernsee  
Max Planck, after whom the Max Planck Society is named, is one of the most important physicists of the 20th century and shaped the development of his subject like no other. An exhibition installation in the foyer of the conference hall in the tower has been providing information about Max Planck since 2020 and also shows a very personal side of him as a holidaymaker at Lake Tegernsee. Conference venue director Jochen Essl explains in an interview why Planck can continue to inspire today's scientists, not only as a researcher, and what role the landscape around the Ringberg plays in this.  
SK: Lake Tegernsee is a popular holiday and hiking region. What is so appealing about the Ringberg area if you want to go hiking in the mountains?
JE: Lake Tegernsee is rather a quiet hiking area, the mountains here are not that high yet, around 1,500 metres, the highest 2,000 metres. Nevertheless, they offer interesting challenges that can also be mastered on half-day tours, e.g. Leonhardsstein near Kreuth. When hiking in the mountains, you always have to bear in mind that your body first has to get used to the altitude. Every metre of altitude is a strain. Max Planck came to Lake Tegernsee every summer to hike. Someone like him, who lived in Berlin and thus in a flat area, could easily get used to the altitude here. So Lake Tegernsee was certainly an ideal region.
SK: Yes, he spent at least two weeks at Lake Tegernsee every year since 1885, then he went on to Tyrol or Austria, to the really high mountains.
Here in the house, conferences are held that focus on specific topics and problems. Do the surroundings still play a role?
JE: The environment is very important, especially for groups that stay longer, some sometimes stay for a week. For them, trekking tours to the surrounding mountains are also a great team-building activity. Many groups do this. For example, the tour to the Riederstein and perhaps on to the Baumgartenschneid is quite manageable. We recently had an IMPRS group do this. It was a real sporting challenge for the young people. Very few people today are as fit as Max Planck. Max Planck also did this tour, but he went much further.
SK: Where do your guests come from?
JE: From all over the world. Our guests reflect the international relations of the MPG. Researchers come here from Europe, North America, and the Asian countries, China, India, Japan, also many from South America. For them, their stay with us is naturally also an encounter with a particularly prominent and beautiful part of Germany, nature and Bavarian culture. We always have a Bavarian evening with hearty, typical food. It is important to us that our foreign guests also experience something of Germany and remember it later.
SK: Planck was an enthusiastic hiker who mastered difficult mountain tours to well-known peaks, e.g. in Tyrol or in the Allgäu, he also climbed the Zugspitze. He trained for this at Lake Tegernsee and made many notes about it in his diary.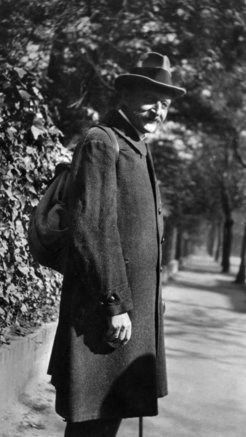 You are an enthusiastic mountaineer yourself and know the area very well. Can you give an estimate of how fit Planck must have been and how difficult his tours were? For example, the tour on the Guffert.
JE: It is quite astonishing how fast Planck was on his mountain tours. For example, in 1893 he wrote: "In reasonably favourable weather we climbed the Guffert in 3 ¼ hours, went down to Weissenbach-Alpe and via Zottlbach to Johannesklause, then to Falep. The Guffert is 2195 metres high. When you read such walking times in the diary, you get respect for how sporty he was. He probably also rode his bicycle up to the entrance of the mountain - otherwise he couldn't have done it.
SK: Yes, he cycled a lot, there is a lot of evidence. But what was it like back then, were there already hiking trails?
JE: There were no paths with marked signs like today. You have to keep in mind that today's well-developed hiking trails did not exist at the end of the 19th century. There were paths for the farmers and dairymen, but they were much narrower and more impassable. And then he didn't have the equipment that we mountaineers have today. He was really incredibly fit.
SK: Did Planck also climb? His hiking equipment has survived and includes an ice axe.
JE: He certainly didn't climb the way people climb today. Modern climbing came later and has nothing to do with mountain hiking. All the equipment for it didn't exist either. At that time, at the turn of the 19th century, people climbed in their mountaineering boots when the route got really bad and they had to overcome difficult passages. Planck certainly did the same. And safety ropes like today didn't exist back then.
SK: Do you think that Planck perhaps also hiked up on the Ringberg?
JE: Yes, we can assume that. If you read the diary notes, you really get the impression that he knew the area like the back of his hand and was very much at home here. He also came to Bad Wiessee, our neighbouring community, every year for decades. I would be very surprised if he had skipped this mountain. Especially since there is a good passage from Bad Wiessee to the Ringberg. However, the castle was not built until 1912 and Planck was here much earlier. He must have followed the construction and was probably curious to see it up close when it was finished. In the 1930s it was already largely standing.
SK: Does Tegernsee still have a memory of this prominent guest?
JE: Not really. In Bad Wiessee there is a commemorative plaque on the house that his first wife's family owned and where Planck lived in the summer: the Hof am Grunder. But the people at Tegernsee probably know nothing about the prominent physicist. The Max Planck Society, however, is very well known.
Interview: Susanne Kiewitz