Conference Equipment
All regular or specialized audio-visual equipment for usual communication and presentation methods are available in the conference site.
1 Speaker's table with PC (Win 10, office 2017)
1 Overhead projectors
3 Flip-Charts
1 Diaprojectors with rotating holders
1 Board
2 Beamers (4000 & 3000 Ansi Lumen)
15 Pinnboards (both-sided, 125x150 cm)
2 Windows Computers (Win10)
Fax +49 (0)8022 / 279259
1 multiple equipped Copier / Printer
Elevator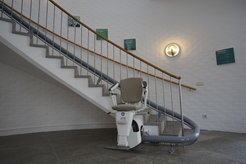 A modern stair lift enables our disabled guests to get from the ground floor to the lecture hall on the first floor.
From November 2021, the new building will make the conference center barrier-free - in addition to an elevator, three rooms will be newly built for wheelchair users.