Schloss Ringberg at Lake Tegernsee – the last "fairytale castle" of the Wittelsbach Chapter
Duke Luitpold had a mighty palace built high above the Tegernsee from 1913 to his death in 1973. The impressive Gesamtkunstwerk is today used as a conference centre by the Max-Planck-Gesellschaft.
Conclution of Wittelsbach building tradition - Meeting place of science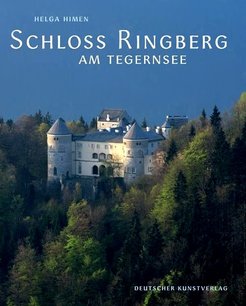 Schloss Ringberg at Lake Tegernsee is the latest and last witness of Wittelsbach building tradition. Over six decades, from 1913 until his death in 1973, Duke Luitpold in Bavaria built the castle grounds and pursued this project with a similar intensity, like his cousin King Ludwig II to build his "fairy tale castles" had operated. Ringberg Castle is a unique piece of art uncomparable in Europe. It reflects impressively the contradictory nature of the artistic period of late historicism, Art Nouveau, Art Deco, home style, neo-classicism, modernity and national-socialist classicism. Its architectural design as well as its furnishings were largely in the hands of a single person, the Munich painter Friedrich Attenhuber, Luitpolds "personal artist". Duke Luitpold inherited Ringberg Castle to the Max-Planck-Society, the castle is now being used as meeting venue for scientists.
Dr. Helga Himen studied art history, theater arts and sociology in Heidelberg and Munich. She received her doctorate with a dissertation on "Schloss Ringberg at Lake Tegernsee". Her work and research priorities being in the architectural history of Munich, especially its development during the so-called Third Reich and after 1945, she has been working as a consultant for Heritage acquisition and exploration since 1976 at Bavarian State Conservation Office, mainly responsible for the city of Munich.
By cooperation with von Heiderose Engelhardt | with articles of Otto Meitinger and Manfred Rühle | 160 pages incl. 93 colored & 45 black-and-white illustration | 21 x 26 cm Hardcover | English Version ISBN 978-3-422-06828-5